The Osler Newsletter returns to provide you with up-to-date information to assist you in staying current with the latest news and trends in medicine and continuing medical education.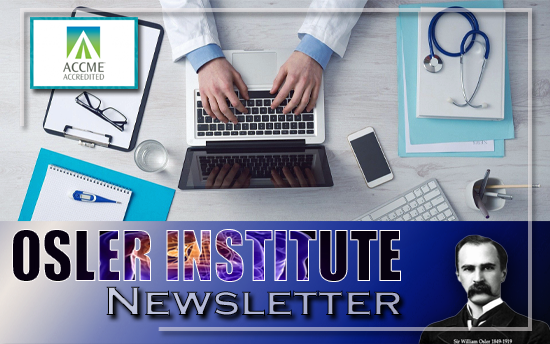 CNN's Covid-19 pandemic doctors special
CNN Chief Medical Correspondent Dr. Sanjay Gupta sat down with Dr. Anthony Fauci and other leading health officials to discuss events leading up to, and during, the coronavirus pandemic.

MedPAC calls for 2% bump to hospital payments,
no update for docs in 2022
MedPAC recommended a 2% increase in Medicare payments to acute care hospitals but no update to physician payments for 2022.

More than 20 percent of health care workers experience depression, anxiety amid pandemic: study
More than 20 percent of health care workers worldwide have experienced depression and anxiety amid the coronavirus pandemic

Overworked, understaffed: Pharmacists say the industry in crisis puts patient safety at risk
"We're going to have a fatal error somewhere," said a pharmacy technician, "because we're doing too many things at once."

G devices detect AFib among older patients, reducing the risk of stroke
Heart Rhythm tweet share mail Wearable electrocardiogram (ECG) solutions can help screen older individuals for atrial fibrillation (AFib)

COVID updates: 2-shot vaccines 80% effective after 1 dose
The U.S. has surpassed 30 million coronavirus cases and the CDC chief warned of " impending doom" as infections once again rise. Latest COVID-19 news.
The Osler Institute is Pleased to Announce our
New Virtual Review Webinars
Access from anywhere on computer, tablet, or phone


The Osler Institute's primary concern is the health and well-being of our faculty and participants. Osler is continuing to take proactive measures to reduce the potential spread of COVID19 by not encouraging people to gather together. For this reason, we offer both our new Virtual comprehensive reviews that combine virtual interaction with Faculty and recorded materials as well as Enduring material courses, in most specialties, to help you prepare for your upcoming exam in a manner that best suits your needs.